More requirements for Exchange 2010:
Your Forest is required to be running at Server 2008 R2 Forest Functional Level.
x64 based hardware is required.
There is no in-place upgrade for Exchange 2007 to 2010.
It's always important to map out your network prior to installing servers.
Consider your existing infrastructure and the needs of the company.
Discuss your design and deployment goals for using Exchange 2010.
Review the order of your deployments and consider the physical network layout and network connection speeds.
The following table shows minimum CPU core requirements for Exchange 2010 components: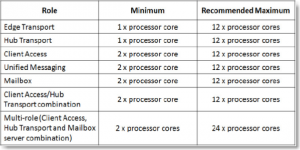 The following table shows the minimum memory requirements for Exchange 2010: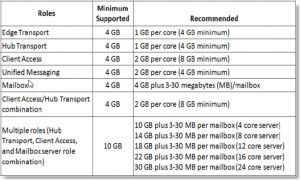 Exchange Server 2010 is available in two different editions: Standard and Enterprise
The edition is determined by the product key, however, when installing as a trial version it will be running as Enterprise Edition.
The Exchange Management tools can run on Windows 7, Windows Vista with Service Pack 2, Server 2008 SP2, Windows Server 2008 R2.
Standard Edition – Limited to 5 Databases per server
Enterprise Edition – Can run up to 100 databases per server (previous editions both standard and enterprise allow database availability groups (High Availability) but require cluster which require Enterprise Edition of Server 2008 Enterprise.
Client Access Licensing (CAL's) also come with both Standard and Enterprise versions. Sometimes the type of license will limit clients. For example, mobile devices without the correct license may not be able to use certain features.
Prerequisites: Use the powershell commandlet or Server Roles and Features to install prerequisites. Different Exchange roles will have certain requirements. Eg. the UM role requires the Desktop Experience feature installed.
More Hardware Requirements:
Processor(s): x64 Intel or AMD
Memory: can change due to different role being installed, but typically 4GB min per server. If combining roles, 8GB. Add 2-10MB memory per mailbox. The maximum memory for a Mailbox role is 64GB
Disk Space: For the Mailbox Role, you will need a minimum of 1.2GB to install Exchange.
Server OS: Server 2008 or Server 2008 R2
Prerequisites for Server 2008 SP2
.NET Framework 3.5 SP1
Install the .NET Framework 3.5 Family Update
Windows Remote Management (WinRM) 2.0 here: http://support.microsoft.com/kb/968929
PowerShell v2
For Hub Transport and MailBox servers, install the MS Filter Pack. *Note: On Exchange 2010 RTM, you can meet the prerequisite by installing 2007 Office System Converter: Microsoft Filter Pack. However, MS recommends that you upgrade to the Microsoft Office 2010 Filter Packs.
From an elevated command prompt, from the Scripts folder, issue the following commands:
Sc config NetTCPPortSharing start auto
ServerMangerCmd -ip Exchange-Typical.xml -Restart
7.  With the Unified Messaging role type:
ServerManagerCmd -i Desktop-Experience
Some useful tools in the scoping and stress testing of Exchange are:
1. Risk and Health Assessment Program for Exchange Server (ExRAP) – Scoping Tool v1.5 http://www.microsoft.com/download/en/details.aspx?id=20857
2. Planning and deployment guide: http://technet.microsoft.com/en-us/library/aa995902.aspx *Especially the Mailbox Server Storage Design
3. Install and run Jetstress on your hardware prior to deployment
The documentation for the Exchange Server 2010 version of Jetstress is available on TechNet at the following location.
http://technet.microsoft.com/en-us/library/ff706601.aspx
Table 1 – Jetstress version and download table
---
[1] Refer to Appendix D – Exchange 2003 for information on configuring Jetstress 14.01.225.x for Exchange 2003
A good majority of the content provided in my Blog's Exchange series is derived from J. Peter Bruzzese' excellent Train Signals Exchange Server 2010 Video Disk Series as well as my own Exchange 2010 lab. Trainsignal.com is an invaluable source for accurate, easy to understand, IT information and training. http://www.trainsignal.com