I took some time to get familiar with Oracle's 11G and EPM solution in my lab. EPM is a large software suite and is useful for enterprises that are looking for management dashboards and end to end visibility.
11G/Hyperion/EPM Install Procedures
Install 2008 R2 64 virtual machine

Get VMWare ESXi running
Upload Server 2008 R2 Standard ISO to your Datastore
Create new virtual machine -> Typical
Name VM (EPMTest1)
Choose your datastore (datastore1)
Guest OS: Server2008R2 64
Use 1 NIC – type: VMXNET3
Virtual disk size: at least 100GB – Thick Provisioned Lazy Zeroed
(Edit VM settings before creation of VM -> Continue
Under VM Properties:

Change CPU and Memory as needed.
For CD/DVD drive, use Datastore ISO file and browse to Server 2008 .ISO file, connect at power on.
Under Options Tab, Advanced -> Boot Options -> Change Power on Boot Delay to 5000 ms.
Under Advanced -> Memory Hot Add -> Enabled memory hot add
Ok

Right-click on EPMTest1 VM and choose open console
Start vm and boot to iso/cd
choose default language
Install Now
Select Windows Server 2008 R2 Standard Full Install
Choose Custom installation
Select your virtual disk -> next
Files will copy/expand/install
vm will reboot several times
Change Administrator pw to ???????

Once at desktop, check for network adapters. If unknown device exists, from vSphere Client, install VMWare tools.

Ensure VM is online and can reach network resources
Update OS with MS Updates
Activate Server 2008
Run script to install Roles (open powershell and paste in following command): ServerManagerCmd -Install Application-Server AS-Web-Support Web-Server Web-ASP Web-CGI Web-Mgmt-Service Web-Mgmt-Compat Web-Metabase Web-WMI Web-Lgcy-Scripting Web-Lgcy-Mgmt-Console
Backup your VM prior to installing Oracle software (ghettovbs script does ok job and instructions are at: http://www.youtube.com/watch?v=fJmqrMAXQAg – scripts download located at https://github.com/lamw/ghettoVCB
Install JRE
Download 2 zip files – Oracle Client Runtime 11.2.0.1 from http://www.oracle.com/technetwork/database/enterprise-edition/downloads/112010-win32soft-098987.html –
Install Oracle Client Runtime/database 11g 11.2.0.1

Installation Instructions:
Create new folder c:admin
Create new folder c:adminepm_downloads
Create new folder c:adminepm_unzipped
you need to extract Database 11g zip files into exact same dir as file1. It cannot be in a separate dir. Extract to c:adminepm_unzipped
Install Oracle Database 11g – run c:adminepm_unzippeddatabasesetup
Enter Oracle Account info
Enter proxy info (?) or Check I do not want to be informed of critical updates
Install db software only
Single instance
english, next
standard edition one
Location c:appOracle
Finish
Installation Successful – Close

Install and configure MS Office 2010

In addition to the requirements listed in the previous sections, CLIENTHOST1 requires the following installations: Microsoft Office 2010 Microsoft Word, Excel, and PowerPoint must have the following characteristics:
Be registered in the server's registry for printing
Be available to the "SYSTEM" account
Have access to, and be able to print from the printers installed by Financial Reporting (HRPrinter1-5). The SYSTEM account issues all print requests, so it is important that the applications can print using the Print Server's printers.
A supported 32-bit version of GhostScript. http://www.ghostscript.com/download/gsdnld.html GPL 32bit – download and install
Disable the following on CLIENTHOST1 to support Financial Reporting Print Server:

Disable:
All add-ins (including EPM System add-ins) from all Microsoft Office applications to enhance application launch time and reduce system resource consumption. If add-ins are present, they may display UI components that require user input.
• SmartTags (Office 2002+) to enhance performance.
• Microsoft Office Assistant which prompts the user for input and may halt printing.

On Local PC – Create User DeployEPM -> Add DeployEPM to local Administrators Group
On server, open Local Security Policy, drill down to Local Policy -> User Rights Assignment
Add DeployEPM account to following policies

• Act as part of the operating system
• Bypass traverse checking
• Log on as a batch job
• Log on as a service

Create Shared Filesystem on NAS/SAN (jason-nas1EPM_Shared)
Map Network Drive Z: to jason-nas1EPM_Shared
Check hostnames, check clock synchronizations
Set up Oracle Database

Create an Oracle 11g database with AL32UTF8 character set encoding and set these database parameters:

NLS_LENGTH_SEMANTICS to CHAR * could not find these settings
CURSOR_SHARING to FORCED *could not find these settings
Open Database Configuration Assistant -> Create a database -> General Purpose -> Global DB Name: Test11gDB1.EPMTest1 SID: Test11gDB1
Uncheck Configure Enterprise Manager
Use Same Admin pw for all accounts SYS and SYSTEM
Use DB File locations from template
Character Sets – Use AL32UTF8 -> Next ->Next->Finish (Create DB)
Once DB has been created, open Start->Programs->Admin Assistant For Windows, and browse to new DB
Create the following database (and local server/domain/user) accounts:
• One user for EPM System Repository
• One user for Financial Management data repository
• One user for a Planning data repository
Each Planning application requires a separate database account. Before creating a new Planning application, you must create a new database user for it.
Set table temp space if necessary
Setup Firewall ports if necessary

Download EPM software from https://edelivery.oracle.com

Download 11.1.2.1.0 media pack
Download the following zip files:

05/05/2013  10:52 AM     1,831,124,877 V25459-01.zip
05/05/2013  11:25 AM        51,317,271 V25460-01.zip
05/05/2013  11:36 AM     1,090,549,336 V25461-01.zip
05/05/2013  11:28 AM         5,556,028 V25462-01.zip
05/05/2013  11:29 AM        28,348,437 V25463-01.zip
05/05/2013  07:19 PM       389,282,485 V25464-01.zip
05/05/2013  07:21 PM        96,713,567 V25468-01.zip
05/05/2013  07:41 PM        88,759,524 V25469-01.zip
05/05/2013  07:22 PM       143,329,315 V25470-01.zip
05/05/2013  07:23 PM        13,426,437 V25475-01.zip
05/05/2013  07:37 PM       199,685,657 V25476-01.zip
05/05/2013  07:24 PM       121,862,788 V25477-01.zip
05/05/2013  07:39 PM       102,999,780 V25479-01.zip
05/05/2013  07:41 PM        70,810,195 V25487-01.zip
05/05/2013  07:35 PM     1,488,695,147 V25494-01.zip
05/05/2013  10:05 AM       269,705,265 V25495-01.zip
05/05/2013  10:21 AM     1,094,215,607 V25496-01.zip
05/05/2013  10:30 AM     1,317,755,597 V25497-01.zip
05/05/2013  10:33 AM     1,168,889,472 V25498-01.zip
05/05/2013  10:47 AM     1,499,139,033 V25499-01.zip
05/05/2013  07:20 PM        93,168,097 V25500-01.zip

Install and Configure Foundation Services

Ready files for installation
Create folder EPM_Unzipped
Unzip all files into the same EPM_Unzipped folder
On FNDHost1 (in this case, EPMTest1), log in as an administrator
From Z:EPM_Unzipped run InstallTool.cmd
Run installer – > Check that Prerequisites have been met – ok
Enter Default Location of middleware home c:OracleMiddleware
Select components individually
Install the following components:

• Foundation Services
• Essbase — Administration Services Web Application
• Essbase — Provider Services Web Application
• Reporting and Analysis
• Planning
• Financial Close Management (Assembly missing) @followup
• Disclosure Management (Assembly missing) @followup
Financial Management — Financial Management Web Service (ADM Driver under Financial Management is selected by default)
• Profitability and Cost Management (Assembly missing) @followup
Unselect: Essbase — Essbase (Essbase Server is selected by default when you select Planning)
Hit Next to Confirm, Next to install
Download and apply patch 12552933 from http://support.oracle.com (unable to locate patch, need Support Identifier) @followup

Run EPM Configuration -> Start -> Programs -> Oracle EPM System -> Foundation Services -> EPM System Configurator
If cannot connect to database – "Connection Refused", try installing loopback adapter and open Command Prompt and run netca. Install a new Listener on default port 1521. Then go back and run Database Configuration Assistant. After configuration has succeeded make note of location of encryption key, in this case it's c:/app/oracle/product/11.2.0/dbhome_1/servername_dbname/sysman/config/emkey.ora. Also make note of Database Control URL: https://WIN-9ANJ6AA1428:1158/em
At this point, I had significant problems trying to configure the installation with the System Configurator. Ultimately the resolution was to ensure I had the correct credentials for the installer to run normally.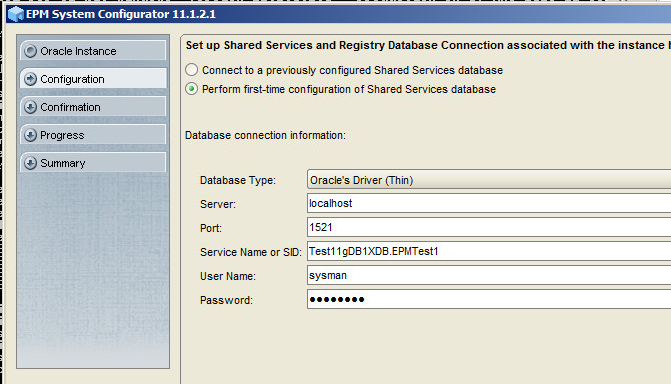 I completed the configuration according to my environment and the setup completed successfully. After restarting the default websites, they wouldn't display with a 404 message. I had to re-run the EPM Configuration and installed the default websites components. Starting up the EPM Services can take some time on a box with 8GB of RAM but eventually the services started and the sites came up and I was able to log into the Shared Services console and Workspace successfully.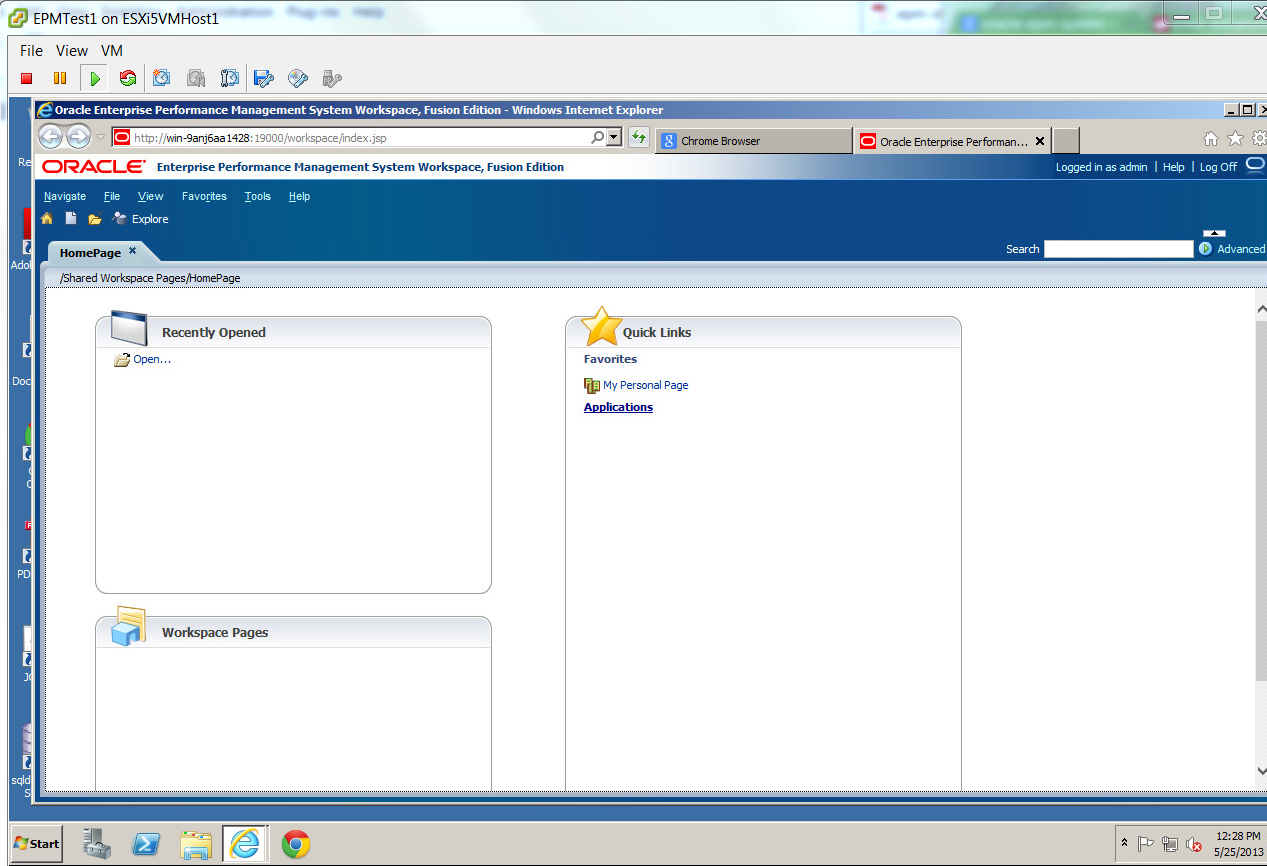 My next steps are to import some test data, create some applications, dashboards, and build some views.