All credit goes to https://twitch.tv/shroud
Started stream around 10:30a.m.
PUBG Solos
Shroud: "I've gotta leave 4 hours ahead of time to get there. LA traffic rush hour, not fun. But going to be my first First Class flight. Most exciting part!"
Choco: I've never been first class you'll have to report back. Shroud: Will do.
Choco: Did you watch Game 1? (Berlin competition) Shroud: Yeah a little.
Did you get the new sporty set (skins)? They inverted the colors. Black top and white tights. It's cool I wish we got more weapon skins.
S: "Did you see the Dacia?" Choco: "Will be faster with the flames." S: I don't know if that's how that works.
Shroud: It's better to start on something less popular. They want to hit the twitch viewers. On Friday FPP starts. Choco: 3rd person is much more popular. 75% of NA games are 3rd person. In Asia, 98% is 3rd person. It literally makes less sense.
S: You gotta realize in Asia, not everyone cheats, but a lot of them do and cheat to see who has better cheats. Not everyone in Asia, but it's a big mindset over there. That's their way of competitiveness.
Steam is just the worst. The latest update is worse. They removed the ability to go offline. You have to turn off your steam overlay completely.
Duos with Choco
"After this game we are swapping back. This map is terrible (Miramar). Stream snipers are hiding, I'm so afraid!"
"It's crazy how desperate people are for an MMO. Why is so hard to make a good MMO? The amount of money it takes to make a game like that is absurd. "
Choco: "Ow my ears."
What the hell is Defiance 2050?
Why did Just9n shave his head? No it looks fine.
The parachute is cool, but you see it for like, 10 seconds. It's the one skin that will work in 1st and 3rd person.
He shaved his head last night. It's all gone. Should I do that? My hair grows really fast.
This is a laggy mess. (choco gets knocked) – I'm coming choco! I can't res you. Put your ass to my hand.
Get some speed – Barrel roll!!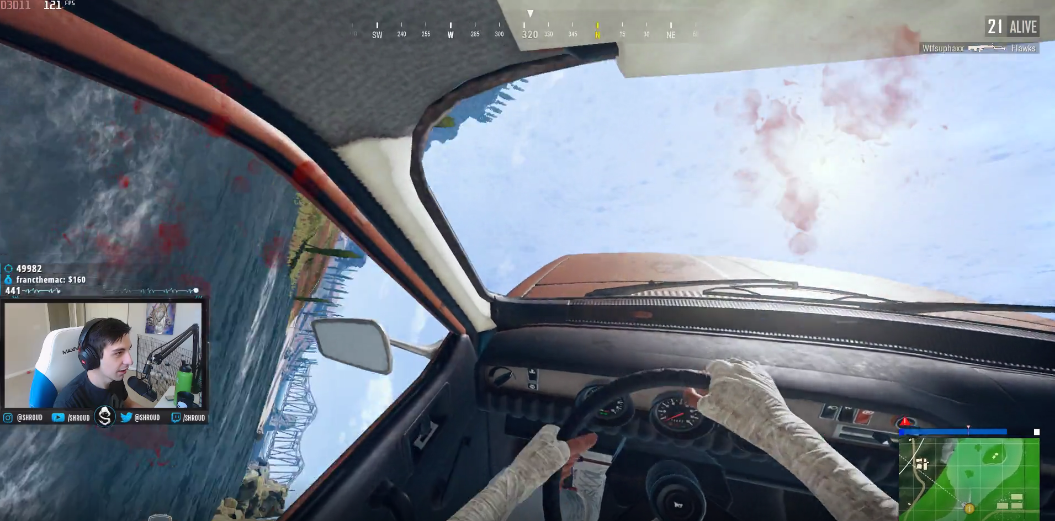 We hit 50K! Can I get an easy clap in the chat? Can I get an easy clap?
To Choco: "Did you hear Just9n shaved his head. Because he said if he got 3K subs."
Shroud plays a little Miley Cyrus: Party in the USA
Get a helicopter to LAX? God that would be epic! I might consider this.
I have to go to the bathroom, but the dog's asleep. But I don't want to go because I'm going to wake him up and I don't want to be that guy…
AFK
Missed about an hour stream ended with hosting Summit1G