All credit goes to https://twitch.tv/shroud
Started stream around 2:30PM PST
PUBG Solos
Missed 1st hour of PUBG gaming but got a few clips
Shroud sub callout rap god (clip)
4PM PST
Mike Checked out Earth Special Forces – I've been waiting for the new one. I don't think it's ever going to get re-made. It was so fun. It's really old. It was a half-life mod as well as the new one. 16 player server. All original DragonBallz characters and their abilities. And then you have your chi (ke?) and you get that by fighting.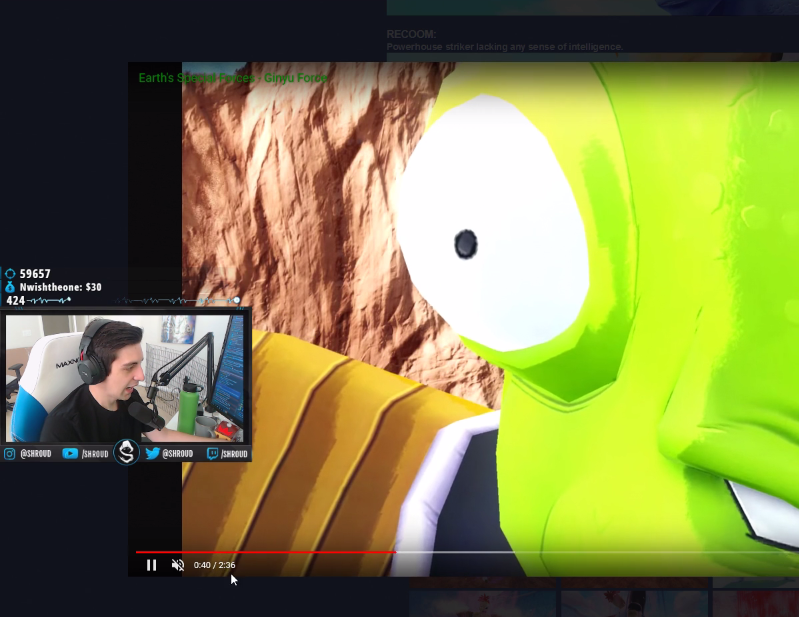 Anyway ESF is a great game. There's a lot more to it than the different blasts. There are people on the forum that say, "I started following it when I was 14 and now I'm 30." Do they have an FAQ? Anyway, I wonder if it's a game you can still download. Is maintenance still happening? Oh shit you have to install halflife to install this.
Oh Steam is down. Steam's dead. Steam is offline! Ohhhh ew ew ew. Flame. Oh it's Tuesday; Tuesday maintenance. I'm going to go get some coffee. I forgot Tuesday is maintenance.
I want to show you quick run through of ESF. It came out in 2000. I was 6. 1.2.3 is when I played it. Their final version 1.0 will never happen. I'd love to partner up with them. I'm sure my community would love it. They might get screwed. Now that DragonBall is getting more popular. Most fan-made mods kind of get shut down. Anyway, I'll BRB. I want some more coffee. And water – that's important. I got just the song. (plays Africa – Toto).
Alright, let me show you guys this game just for fun. Let me show you what this game is. This game was my childhood. Their servers are up! Haha, there is 1 player. Let me set up a server.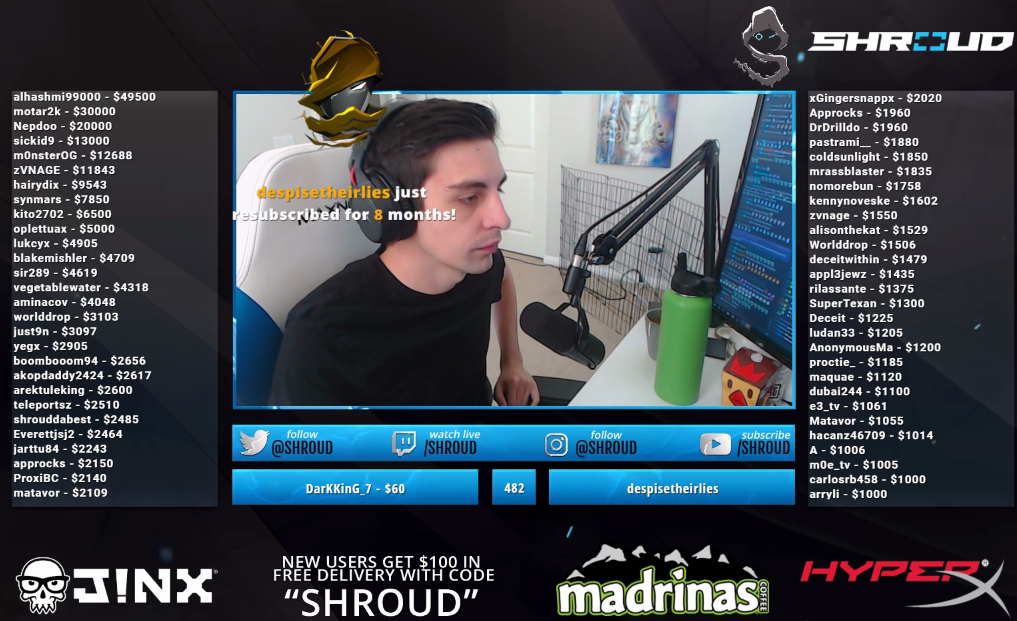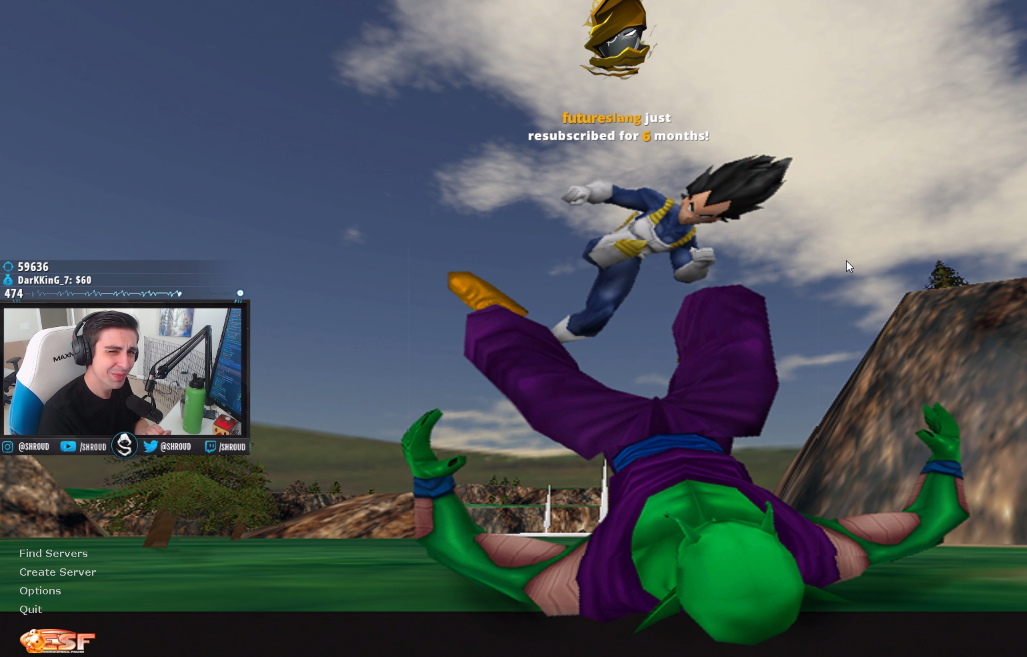 I loved this game, I loved it.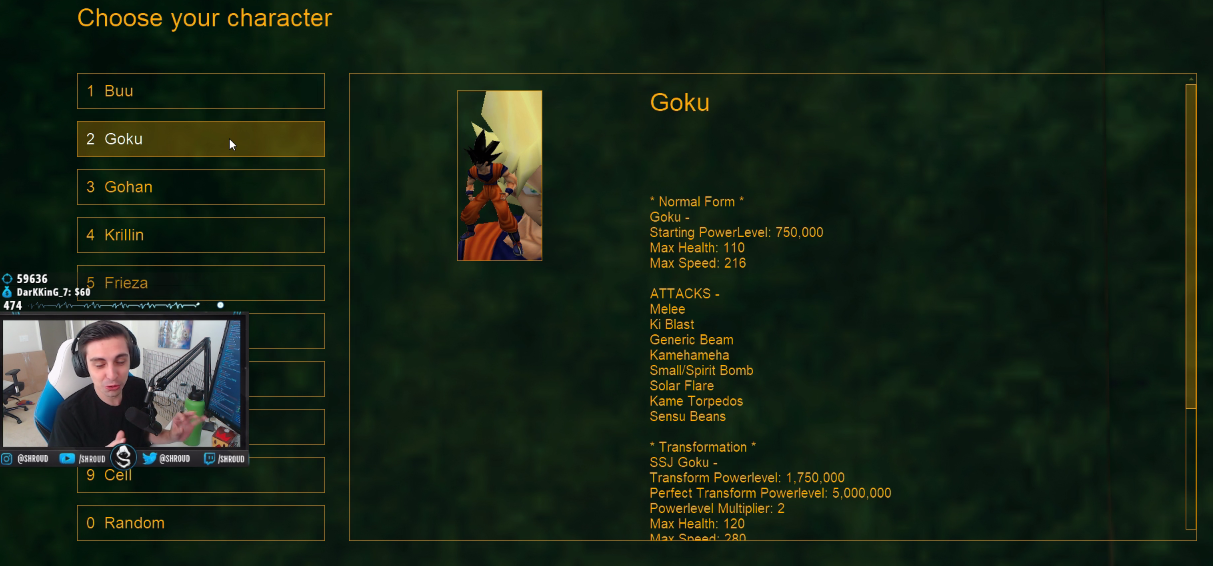 You have your abilities, you can teleport. This is my childhood. You can have your beam battles and shit. This game was so fun. I loved it. You can have 16 players in this battlefield here. Normally I just played with my friends on LAN server. Anyway, it was awesome. There are commands. I didn't mean to add a bot.
Left stream at 4:30 PM PST

Resumed stream at 7:45PM PST
Rainbow 6 Siege
Shroud's playing R6S with the following crew: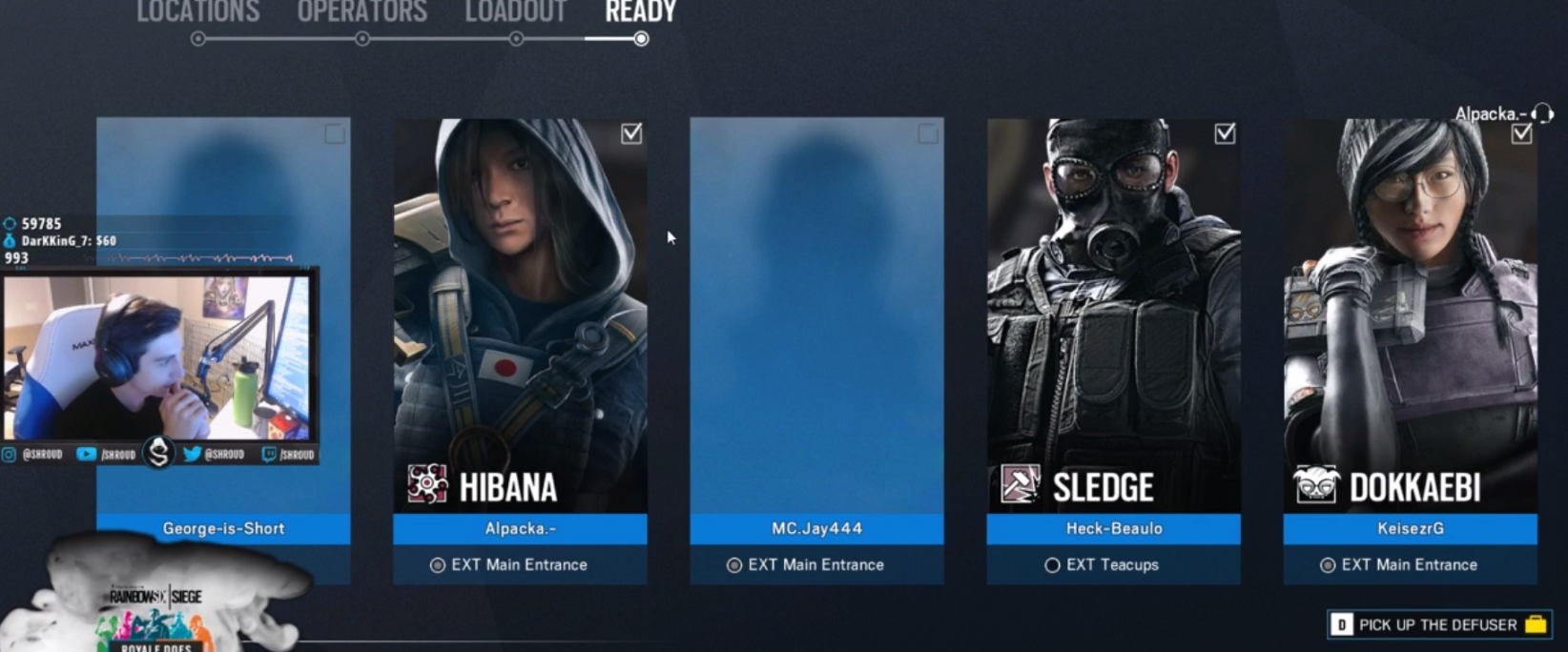 George-is-Short, Alpacka.-, MC.Jay444, Heck-Beaulo and KeisezrG (Shroud)
We got some trolls on our team jezuz. (George-is-short smacks Shroud with a club.) Geez we got trolls on our team.
Oh he got banned. I guess these guys are known as the toxic trolls in this rank. I guess the George guy was an actual troll. The other guys are trolling but he was TK'ing me over and over again.
I am not a troll ok? I am not.
For some reason everyone started copypasta:
I'm going to get my food I'll be right back. By the way, look at how close we are to that! Look at how close!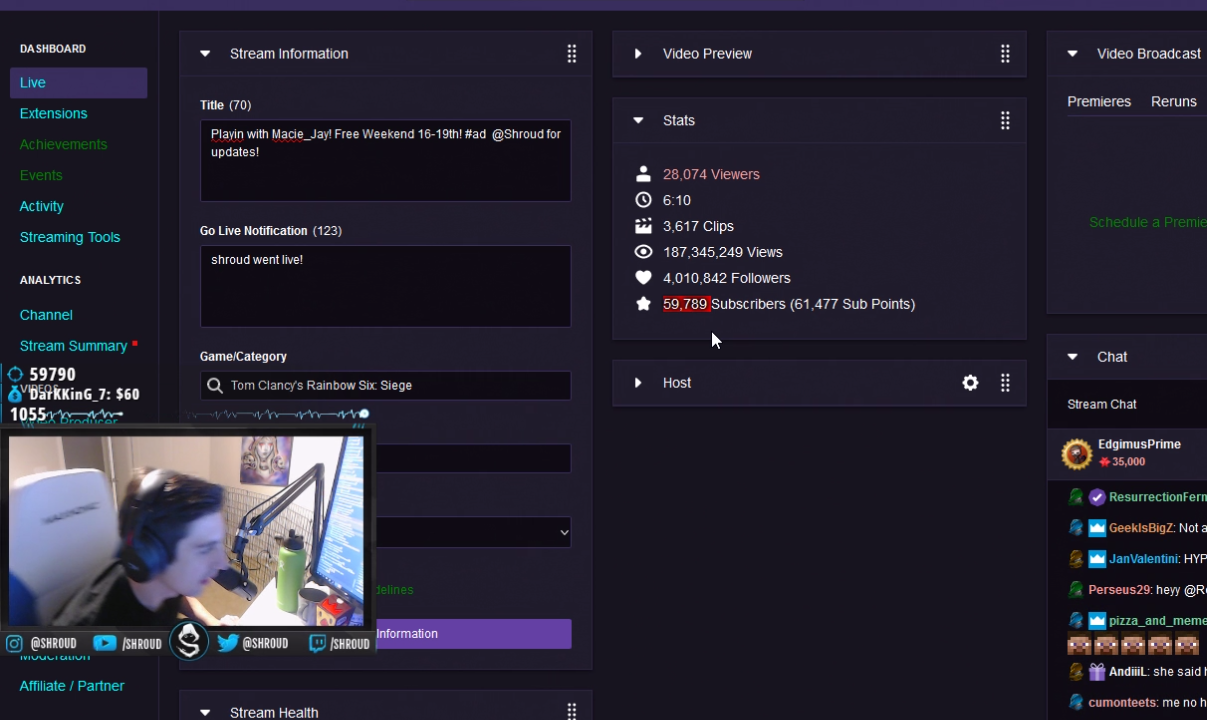 59,798 Subscribers
8:30PM PST
Alright, so I got my food (Asian food eating with chopsticks.) What should I play? What's your favorite kind of rice, chat? White rice, brown rice?
Oh my alerts are not actually on.
Yeah Troy's being a butt today apparently. Jess took him to the dog park earlier and he still has too much energy. He's getting to the point where he always has too much energy. Get a laser pointer? I wonder if a laser point would work? Find mental games to tire him out? How do you find that? This is not that great but it's food.
OMG bro you're cheating. Mzl is cheating out here. 100 gifts! Literally 20 subs away from 60k. Get your credit card out, get your twitch prime out. He's got you! Get your Hype out!
I'm going to take a picture of this for me. Just for me.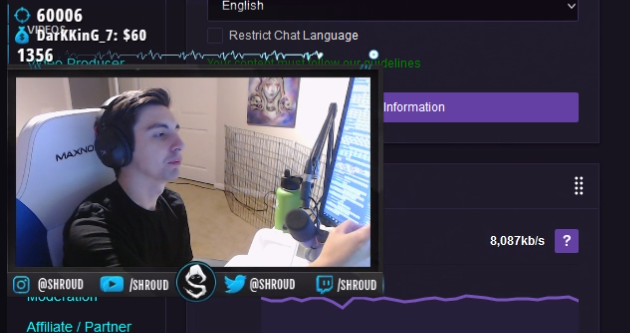 Who's ready for next month drop of 20k subs. So many gifts. Thank you.
Sure another 100 gifts! You're really securing the 60k subs!
I wonder if anyone will ever hit 1 million subs. Will there ever be a bigger game than FortNite?
I had a conversation with edgimus prime, I said "I need you to stop, then think. Just for 5 seconds. Before you do it again. I need you to stop and think, " Will I regret this decision. Think long and hard about this, for 7 seconds. If you're not down, don't do it. No regrets please." (another 100 gifts) Heh, he thought long an hard… You have totaled 2000 gifts at this point.
You're owning.

That's such a big pet peeve. How other people tell you how to spend your money. There's always like 10 or 12 people who say "really" when I buy a watch.
What's the use of money if you can't spend it on the things you enjoy. There's people out there their whole life and don't do anything. They just save and save and save and save.
8:45PM PST - IRL for 15 min now
My realtor was telling me about this workaholic. Something involving stocks. He finally bought a home, he made a lot of money, 25mil, but now he's like 40. He finally went with the dream home he wanted but he could've done it 20 years ago. I guess he felt secure after making 25 mil I guess. The guy also worked from home.
If your channel died overnight would you be f'd? Um… I don't know.
61k hype hahah jezus that's crazy.
What advice would you give to new streamers? I say not stray away from yourselves. Be as real to the stream as possible. That's what I did. I got 1 or 2 at first. I just gamed how I normally game. Hopefully, you game the way you normally game. If you don't have a toxic problem or troll you might get banned, you might not want to do that. Some people are just the worst.
What kind of upstream you have? I have 1000. I couldn't stream at first, I had 10 up. I was 16 so I couldn't move. I couldn't convince my mom to upgrade. I didn't know how to explain. I eventually moved in with my dad and I started to stream at 10 uploaded and I streamed for a long time. I had like 50 or something download and 1 upload. Then I had 100 down and 10 up. Now my dad has 1000/1000 I think. Just because. I think my dad has that fiber with Rogers or Bell. I try to move to specific internets like AT&T. I'm still not sure I think I'm 90% sure for my new home because it hasn't been built. I have a big window before when I move in. You just need 5 upload. Just use 2500 bitrate and you're chillin.
I think owning 2 dogs helps. Instead of getting rowdy with the home they get rowdy with the other dog. I take him on 1-hour walk in the morning. and 1-hour walk later. There are days that the hour walk wears him out completely and other days he just still has energy. Must be a puppy thing.
You don't get an infinity pool unless you have a really good view. Without a view, you're going to look like an idiot. Infinity pool facing the local dump lol. That would take some crazy reconstruction to do it on the 2nd story.
No my SIMS play has taught me nothing except I'm not creative.
I think I'm the #1 gift channel. I almost have more subs gifted this month than regular 4.99 subs. Jezus!
I wonder what sub count would be without Twitch Prime. Twitch prime is beautiful. Amazon is just paying us. Thanks, Amazon!
This stream is brought to you by Amazon. We should all be promoting Amazon.
EdgimusPrime what's up my dude! 50! Fiddy fiddy fiddy fiddy. I wonder how many trolls are being put into my chat. I wonder if my mods are banning gifted trolls?
I enjoyed the game but it didn't go anywhere. I did 50 on Defiance Launch. I did 40 on CS Go. And 40 of Borderlands 2. Borderlands is fun. I didn't like the Pre-Sequel. Not a fan.
9:00PM PST - IRL
When I first started streaming I actually had no cam. If we go back in my vods to the beginning… It won't take that long (scrolling scrolling). So all of my old vods are deleted. These vods Dec 16 2013 I started using a webcam here. I probably was only using a webcam for a couple months. Jesus look at me.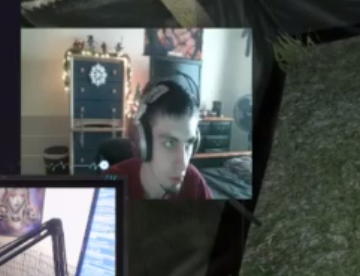 I didn't have a webcam at this time and streamed for like a year. I had 100 viewers with no camera. That was pretty good. Once I used a cam it was weird at first. I dunno a much better experience for the viewers. So basically to answer your question, no you don't need a cam, but with it there is more of a connection and it also helps so they know if you're afk or not. Is this guy afk? And they just leave. It does happen. I've gone to streams, no webcam, no talking, and I went to my buddies stream (buzzatv) I don't know if he was there or not.
Should I grow my beard back? I think I should. Should I grow the goatee back? It took me so long to grow that? Now I could bang the same one out in a month. You look like you were in a 90's boy band?
Can you get weird and creepy and see if there are any pictures with my goatee? I think I removed it when I started competing. I think I removed it when I joined cloud 9. I was so skinny.
Watched a Cloud 9 CS:GO – Frame of Mike
This is my out-tro song. Alright I played that for old-times sake. What are the comments? 2 years ago.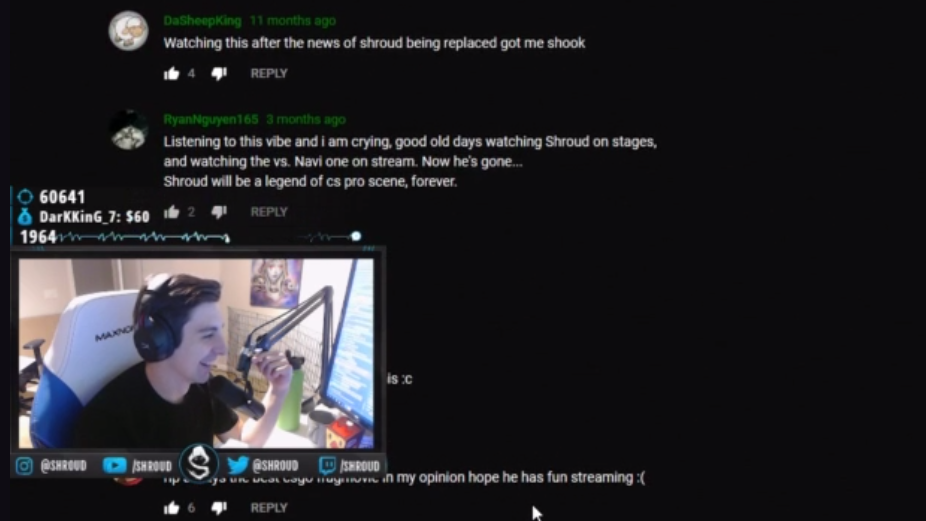 How did I find my name? I search for Synonyms of "Eclipse". I picked 3 names, Obliteration, Shroud, I don't remember the third one. I gave it to a bunch of friends. I searched ever DB i could, didn't found anyone. It was almost Obliteration! Can you imagine? That would've been a troll. Obliteration nation damn.
The old outtro. This is the old-old outtro. This is my very first outtro. It was 4 minutes long.
I don't' think an Outro is that sick anymore.
Went AFK at 9:35 PM PST - IRL
Damn we're going back, way back. Troy, don't think about it… Troy talks: "woo woo woo".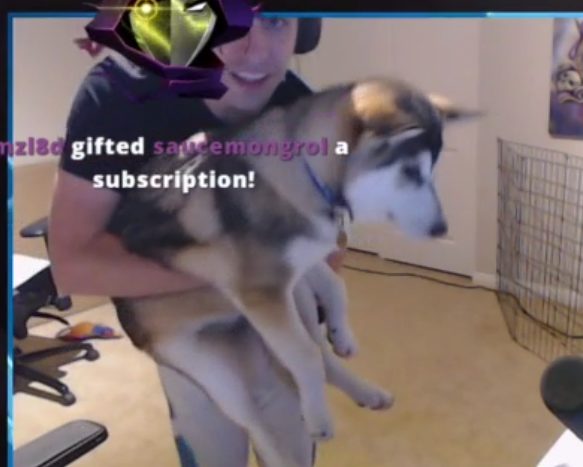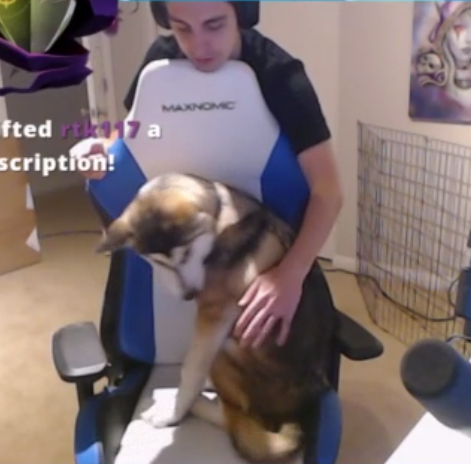 Troy is such a large cat.
Is that ant from Australia? Lol.
Drop it!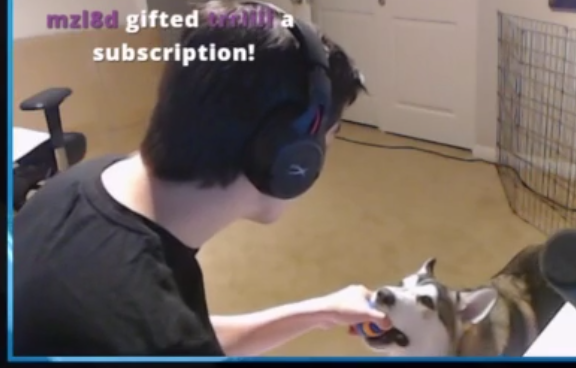 There you go, now you're learning.
I'm trying to throw you the ball, not play tug of war.
Did you lose your ball under my desk? I got you. (crawls under desk)
Superhexagon is fuuuun I love that game. Haven't played it in a long time.
It was fun to watch soda to the mythic.
Greek is a character.
I just want to watch Tyler1 videos. Can I just watch Tyler1 videos?
I think Tyler1 is – I've never met him in person so I don't know but I swear he's – it has to be an act. Even if I was to meet him in person he'd be the same. He's gotta be playin a character.
(Looks at steam charts)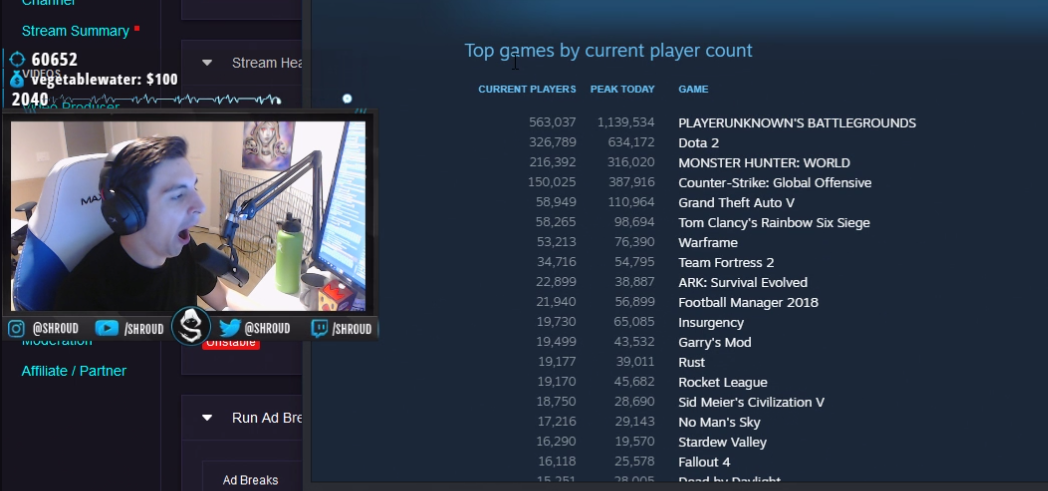 Monster Hunter World is owning!
Tyler1 LULs – oh man
https://clips.twitch.tv/GentleSucculentFlamingoKappa
I watched all his clips too many times.
This is my favorite clip.
https://clips.twitch.tv/RenownedFunnyTarsierTriHard – j9 & shroud
https://clips.twitch.tv/AgitatedBlueDurianSoBayed
This is such a great clip. It can be used with any game.
https://clips.twitch.tv/LongMildConsoleFreakinStinkin
I hate games like that (I wanna be the boshy). So frustrating to even watch them.
I wish there was a better way to watch clips. Like an app.
More Tyler1 clips…
10:15PM PST
https://clips.twitch.tv/StrongUglyHamburgerDoritosChip
https://clips.twitch.tv/PrettiestTolerantLEDBrokeBack – Wadu clip
https://clips.twitch.tv/FineFancyWrenCorgiDerp – JoshOG clip
Tyler helps a fellow viewer lol
https://clips.twitch.tv/TransparentDistinctPelicanShadyLulu
Missed 30 min of stream
https://clips.twitch.tv/UnusualRamshackleKleeANELE – Greek and Tyler1 lol
https://clips.twitch.tv/BadSpoopyLeopardTheThing – Tyler1
Ok I think we've done this enough (watching clips).
AFK at 11:00PM to go check on Jess
Look at this sub count – 60,694. Mark the day at 60k subs. In a week and a half it will continue to go up. I wanted to play WOW today, but I'll do WOW tomorrow night.
D__Rich is playing Lord of the Rings Online? OMG. This game is so fun. Look how dated it is. He's wearing my hoodie again.
I think I'm going to call it here. You want me to host him? Ok f it. Why not? Sure. I was going to host someone else. This works. Anyway, later dudes and dudettes. Thank you. I'll be on tomorrow hopefully in the morning. Anyway, peace out everyone. You can watch LOTR online. This game is 14 years old.
Stream end 11:08 PM